New from Illamasqua – Descend into the riotous scene of erotic adventure that is THE THEATRE OF THE NAMELESS, nocturnal den of the dissident leaders of underworld subcultures. Exotic dancers rub shoulders with expressionist actors and performers; nudists and Boot Girls openly compete for the Conférencier's eye; and all participate in the Club's endless, pleasure-seeking rituals, immersing themselves in a heady world of sensual delight …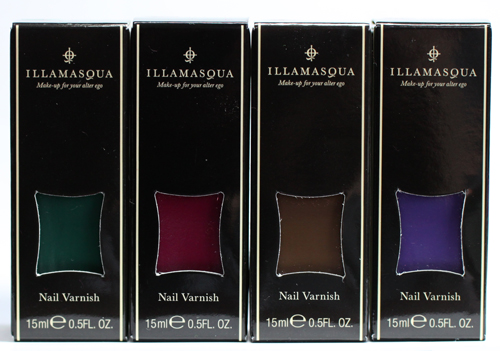 As part of Illamasqua's Fall 2011 collection, Theatre of the Nameless, the cult UK brand is introducing four new Nail Varnish shades with a waxy, rubberized finish. Taking a lead from the colour-coded specialities of the Wittenberg Platz's domineering Boot Girls, Illamasqua introduces confident new shades in Taint (Stone Brown), Kink (Bottle Green), Vice (Deep Cerise), and Faux Pas (Blue Violet).
Click here to view more pictures and read the rest of this story.