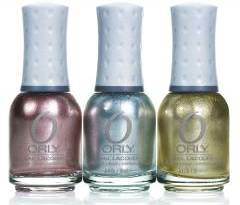 Thanks to the popularity of  the Minx chrome finish appliques, nail polish brands are jumping to give us a "Minx-like" effect.  Let's face it, Minx are super cool but expensive.  They're best for special occasions not everyday wear.  Enter Orly's latest collection Foil FX, a line of three high shine metallic polishes.

While we know that no polish can truly achieve a mirror-like finish, the Foil FX make a valiant effort.  With a silver, gold and bronze-y rose tone, there's a color to compliment all skin tones.  Check them out after the jump!
Click here to view more pictures and read the rest of this story.