Blue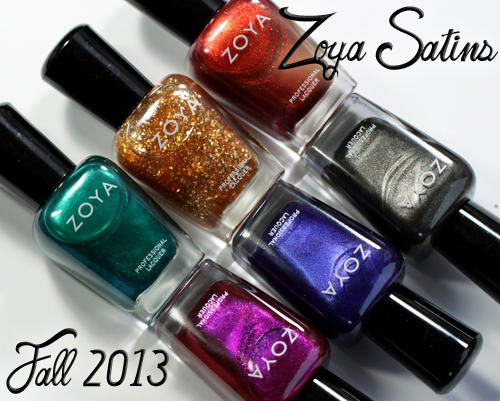 This Fall, Zoya is doing their part in removing the negative connotation I associate with satin. Maybe it's just me but, outside of the benefits of sleeping on a satin pillowcase (it helps maintain a blowout), I always think of satin as being cheesy, like an 80s prom dress. Let's face it, satin is a silk wannabe.
However, one look at the Zoya Satins collection for Fall 2013 and you know this is no shabby knock-off. It's pure, luxurious color!
Continue Reading »
I've never been to San Francisco but I've eaten my fair share of Rice-A-Roni over the years. Does that count? San Francisco is one of those cities I almost don't want to visit because I fear I may love it so much, I'll never want to leave. Do you know what I mean?
Clearly, OPI shares my long distance love affair with the city as its the subject of their Fall 2013 collection. Though, this year they have expanded their usual twelve color offering to introduce three new Liquid Sand shades. Today I'm showing you the first half of the collection which consists of blue and brown hues, including the three textured nail polishes. One of which I'm simply swooning over.
Continue Reading »
The longest running collaboration in nail polish world is the fifteen season partnership between Sally Hansen and fashion designer Tracy Reese. The combination of Tracy Reese's amazing eye for color and Sally Hansen's top notch formula has produced some of my most beloved shades from the past 6+ years of writing this blog.
Remember Stormy Blue? How about Arabian Night? And don't even get me started on the entire Spring 2009 line. Well the team is at it again, pulling inspiration from the rough textures and romantic patterns of the Tracy Reese Fall 2013 collection. The three shades created to represent the collection are an unexpected mix of dark, bright and classic.
Continue Reading »