Berry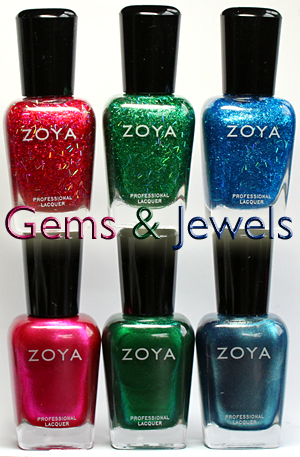 Zoya Holiday/Winter 2011 Gems & Jewels Collection – Jewelry for Nails!
Zoya Nail Polish presents 3 new jewel toned metallic shimmer polishes and 3 glitzy, glitter glazes (featuring unique bar glitter) for an extra special holiday and winter 2011 season!
I know it's barely September and it seems too early to be talking Holiday but when I saw these beauties at Cosmoprof North America I just KNEW you would adore them as much as I do. Zoya is upping the ante in terms of glitter and glam this season by introducing three bold jewel tone polishes with three coordinating glitters that contain fun, fringe-like particles.
Thanks to my friends at Zoya we have an early look at the collection and later today you will have a chance to win a full set Gems & Jewels.