Berry
I'll admit, when I first tried textured nail polish, it skeeved me out. The feel was unusual and all I could think about was how lint, and possibly cat fur, would get stuck to it. But like some annoying person asking, "Do you like me? How about now? HOW ABOUT NOW?" it eventually wore me down. I blame Zoya PixieDust!
As much as I love a glossy nail, the mesmerizing, glitter-packed PixieDust polishes drew me in like a magpie. And while my affection has waned some over the past couple months, it's back in full force thanks to the new Zoya Fall 2013 PixieDust shades. Check them out!
Continue Reading »
I'm not gonna lie, when the first set of Sally Hansen Sugar Coat textured nail polishes released, I wasn't that jazzed. The color palette was very basic; white, black, red, yellow, pink, etc. With the exception of a green (Sour Apple) and blue (Razzle-berry), they didn't speak to me.
However, Sally Hansen has released a second set of Sugar Coat shades that include some more "me" colors, including some glitter textures.
If you know me at all, you know that blue, purple and teal are so in my wheelhouse and that the sparkly texture polishes are my jam, so I had a lot of fun playing with these new colors. In fact, I came up with a layering combination so gorgeous that I dare even the texture haters to dismiss it.
Continue Reading »
As Tom and Donna from Parks and Recreation say, Treat Yo' Self Day is the, "Best Day Of Year!" It's a day to splurge on the those things that are outside your normal budget; facials, designer handbags, totally impractical shoes, expensive meals, etc. Since that episode aired, every time I go to make an extravagant purchase and question whether I REALLY need it, I hear Tom in my head saying, "Michelle, treat yo' self!"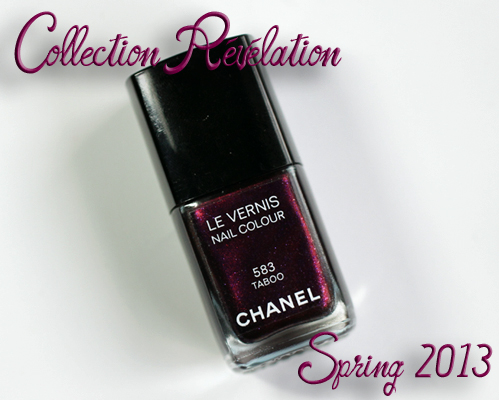 You see, I was raised a frugal barganista (thanks Mom!) so it takes a lot for something to be worth its full price tag. In this new series I'll be sharing the nail polishes and products that I are consider fitting of a Treat Yo' Self Day indulgence.
Even though I've been avoiding dark nail polishes this spring, I could not escape the mystical allure of Chanel Taboo.
Continue Reading »